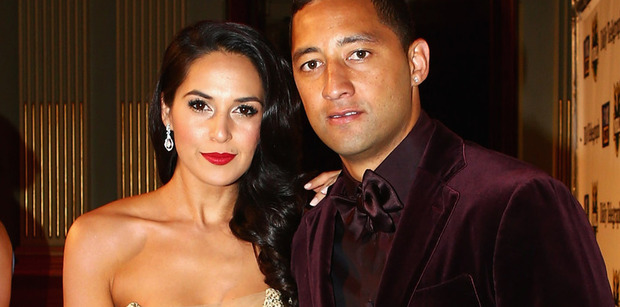 Kiwi league captain Benji Marshall married Australian television presenter Zoe Balbi yesterday in a lavish ceremony in Byron Bay.
Friends and family flew from all over the globe to celebrate with the pair at the exclusive Visionnaire Estate.
Large artisan iron gates and winding sandstone paths led guests to the private ceremony and then on to the reception, understood to be held in the venue's large formal marquee.
Guests at the wedding surrendered their cellphones to ensure privacy but the Herald on Sunday understands the ceremony was emotional.
Zoe's mother died six years ago and the 28-year-old had revealed online the emotions she was feeling leading up to the celebration.
"I do wish my mum was here during these times," Zoe said on her blog Know your Worth. "My heart aches for her."
Australian Idol winner Stan Walker, a close friend of Marshall, was rumoured to have sung at the wedding.
Walker dedicated his version of the Miley Cyrus song The Climb to Marshall's foster father Mick Doherty, after his death to pancreatic cancer last year.
The event came eight months after Marshall proposed to Balbi while on holiday at Hamilton Island.
Since then, the pair has had a whirlwind of pre-wedding celebrations, including a two-week long hens' holiday in Las Vegas, Mexico and Los Angeles, and a stag do and bachelorette party in Sydney.
The pair sampled eight different flavours of cake for the celebration, finally deciding on a decadent red velvet cake.
Guests were treated to a selection of the couple's favourite dishes, including meat pie made from a traditional family recipe.
"I even love my Nunas Torta [big meat pie] sooooo much that it will be part of the wedding menu," Zoe, who is part Maltese, said on Twitter.
Zoe wore a gown made by her friend, celebrity dressmaker Stephen Khalil.
Her regular hairdresser, Clive Allwright from Our Place studio in Sydney, said he organised a friend to take care of the bride on her big day.
"Zoe is very glamorous. She is a very pretty girl so it will be something sexy, something soft and it is going to be a big day for her," Allwright said. "Knowing Zoe, she will pull it out of the bag."
The celebrity pair is passionate about preventing child cancer. Zoe is an ambassador for the Children's Cancer Institute and Lifeline. Marshall's father's dying wish was that his son raise money to help care for children with cancer.
The pair made no secret that they want to start a family of their own - sooner rather than later.
"Anyway no rush for me (try telling that to Benj).
"Have to be svelte for that wedding dress.
"I guess we can give it a whirl and see how we do," Zoe said.