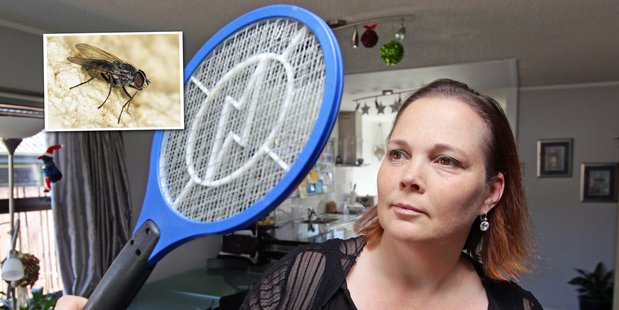 Your eyes aren't playing tricks on you - you're seeing a lot more flies this summer. Sort of.
Pest controllers report a population explosion in the "Lesser House Fly". Protekt Pest Control owner Peter Macleod said he did not think there were more flies overall but the lesser house flies were in large numbers in parts of the North Island.
"They are the small flies that circle the room at eye level and don't land anywhere so you can't kill them. This type of fly is more annoying and people notice them more," he said.
"Five years ago they could have been quite rare but now they're everywhere," he said.
People were increasingly inquiring if he could help get rid of them.
"I tell them there is nothing we can do. If you use fly spray you'll find yourself using a whole can on one fly. If you get the automatic sprays that go off every seven minutes they really only work if the fly is in the path of the spray.
I find the best way is the electric tennis rackets," he said.
He advised people to cover pet food because "they'll go through agent orange to get to that".
Pest Force technical manager Mark Williams said he'd had more inquiries from people with fly issues than in previous summers. "They are definitely up."
He put the rise down to more "green living" with more people having compost bins and backyard chickens.
"It's also down to hygiene."

Papakura a 'no fly' zone
Papakura resident Angela Yuksel (picture) has tried everything to rid her home of flies.
"When we first moved here there used to be horse training nearby and we would get really big blow flies coming in," she said.
"They seem to have been replaced with the little house flies. They are everywhere and I find them so annoying.
"They are the little brown ones that just fly in circles. If we are cooking meat they come for it. We are very careful to clean up but they still come in. I hate the little spots they leave on the ceiling.
"I've tried everything. Cans of fly spray do nothing. They don't even flinch. I ended up putting screens up on every window and that works. We didn't get screens on all the doors because that would have been expensive so we still get two or three a day and I whack them with a $2 fly swat," she said.