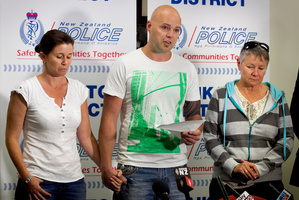 Police are trying to contact a person who handed in a knife that may have been the weapon used in the New Year's Day murder of Murray Wilkinson.
The security guard at the Waihi Beach crime scene who was handed the knife on Thursday failed to record the person's details, Detective Inspector Chris Page said.
Police have appealed for the member of the public who handed in the knife to contact investigators.
"It is not known if this knife has anything to do with the incident but for the investigation it is very important for us to know where the knife was found, when and by who," Mr Page said today.
"These are the sorts of details that help us to determine what is and is not relevant in cases such as this.
"If you were the person who handed the knife in or you have any other information, the Operation Brad team wants to speak to you."
Mr Wilkinson was fatally stabbed outside a caravan parked in the driveway of a Waihi Beach home when he went to investigate a noise outside early on Tuesday morning.
The 64-year-old died in Waikato Hospital on Thursday from severe injuries, understood to be to his head area.
Mr Page said the person who handed in the knife had done the right thing in turning it over to police.
He said police continued to search areas near the crime scene today and investigators were "buoyed by the high level of support shown by the public".
Mr Wilkinson's family yesterday made a desperate appeal for the killer to come forward.
His son Dan, flanked by his mother Luise and sister Cory Rance, said it was "impossible to express the complete devastation our family is now going through".
"At Waihi Beach in the early hours of New Year's Day, a person unknown to us took our father, husband, grandfather, brother and, worst of all, our mate," he said.
"What we need most is to find the person or persons responsible for my father's murder. We are desperate to understand who took my dad from us and why. If you know anything, anything at all ... please let the police know. Somebody has the answer to my dad's death."
Can you help?
Anyone with information that could help police should contact the Operation Brad team on 07 858 6200 or 0800 OP BRAD (0800 672 723) or Crime Stoppers on 0800 555 111.