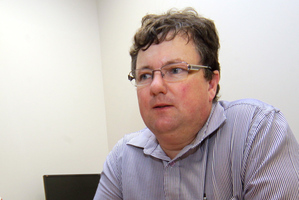 Wanganui is the only region in New Zealand that does not have a child protection co-ordinator, but a Wanganui paediatrician hopes that will change soon.
The Whanganui District Health Board is considering establishing the role after an evaluation of its violence intervention programme last year.
That evaluation was conducted by Jane Koziol-McLain from the Auckland University of Technology who recommended, among other things, that the board establish a part-time child protection co-ordinator position, separate from the existing violence intervention co-ordinator position.
David Montgomery, the head of paediatrics at Wanganui Hospital, said he supported this new role, which he saw as being one of both education and information-gathering.
He said the hospital did not have clear statistics on the number of abused and neglected children that came through its doors each year.
"Studies suggest that up to 10 per cent of children under 5 presenting to hospital emergency departments may have injuries related to abuse, but we don't know exactly what those numbers are for Wanganui.
"One of the reasons we need this child protection co-ordinator would be to gather information and to plot the hospital progress and development in child protection services.
The co-ordinator would be keeping track of all these statistics, and that would be really helpful."
Dr Montgomery said it was difficult to keep track of how many notifications had been made from the hospital to Child, Youth and Family, but a child protection co-ordinator would help streamline that process.
"At the moment notifications are made from so many different areas of the DHB. We think it's over 100 per year but we're actually not sure."
There was also an opportunity to for the co- ordinator to standardise and co-ordinate the hospital's staff child abuse training, which was currently done in different parts of the hospital, Dr Montgomery said.
"We have a training programme in place for staff to pick up on abuse. Every staff member of the DHB has to go through mandatory family violence training, which includes a section on the recognition of child abuse and the actions to be taken. At a departmental level there's training as well, but for some, training in recognising child abuse is more relevant than others."
He said he would like to see communication around child abuse that went across all departments but that could be challenging in a big organisation. "Having someone who can work seamlessly across different areas would be a major advantage."
Dr Montgomery said he was delighted that there was a lot of support within the WDHB for the new role. "It won't happen overnight but hopefully it will be within the next financial year."
For more articles from this region, go to Wanganui Chronicle