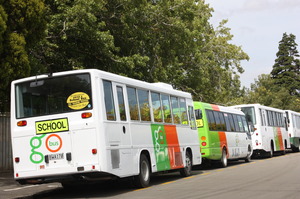 Vandals caused $20,000 damage in a tyre-slashing attack on the GO bus fleet involved in the Rhythm and Vines event.
Fourteen of the 70 buses were targeted between 5 and 6.30am on Monday morning in the Gisborne GO Bus yard.
Gisborne manager Bill Hallgarth said staff were shocked to see the damage when fuellers and cleaners arrived at 6.30 that morning.
Twenty-eight tyres had been damaged.
"The tyres had been stabbed with a sharp object of some kind and the people who did it risked serious injury, even death," he says.
Mr Hallgarth said tyres are under considerable pressure and can explode if punctured.
The buses were parked close together to fit them all in the yard, and that increased the risk to the offenders, he said.
"We were gutted. It was quite depressing actually, when we worked so hard to provide an excellent service for festival-goers."
Mr Hallgarth is full of praise for the work done by the "fleeties" from Eastland Tyres and Bridgestone, who worked through the day on Monday in hot temperatures to replace all the tyres.
"They did a great job and we got all of the fleet on the road for the final night of the festival."
Police are investigating the attack and say they are following several lines of inquiry.
A range of other damage was inflicted on the bus fleet during the festival operation - nearly a dozen broken windows, damage to bus skylights and some seat damage.
Mr Hallgarth said repair costs were still being assessed and he thanked Kevin Hollis Glass for the work the team did on window repairs.
"It also helped us keep running."
Contrary to other reports, Mr Hallgarth said this had been the worst year for damage on the buses in the history of the company's involvement with R and V.
"It has also been the worst year for overall behaviour on the buses."
"Operationally though, we feel it has been the best it has ever been in terms of the service we were able to provide."