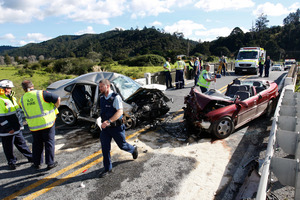 The road toll for last year has increased by one, after a crash victim died in hospital.
Yesterday the provisional road toll stood at 306 for the year, but that was increased to 307 today after an 81-year-old woman died in hospital.
The woman was a passenger in a car which collided with another vehicle on State Highway 1 near Whangaparoa, north of Whangerei on New Year's Eve.
The 2012 road toll was the second lowest in 50 years - slightly higher then the previous year's record low of 284 deaths.
National manager of Road Policing Superintendent Carey Griffiths yesterday said overall figures showed a downward trend.
"Of particular note is the reduced fatalities in the 15 to 24-year-old age group last year, which at 65 was significantly lower than 82 in 2011,'' Mr Griffiths said.
"This is the lowest since records were kept on age groups.
The death of the 81-year-old takes the holiday period road toll to six.
The first death was on Christmas Day.
Chinese national Rongmei Wang was killed in a two-car collision in Hamilton. On Boxing Day, Shane Curtis Tosh, 24, died when his Honda left the Dacre-Lorneville road north of Invercargill. Hours later a 58-year old Taumaranui man died when his car careered down a bank.
On Friday, a 22-year-old man was killed at Ngapara, near Oamaru when he lost control of his car, which slammed into a tree.
And early on New Year's Day a 29-year-old man was killed when he was hit by a taxi while walking in Levin.
The holiday road toll period started at 4pm on Christmas Eve and will finish at 6am tomorrow (Thursday).
In 2011, 19 people died on the roads over the holiday period.
- APNZ