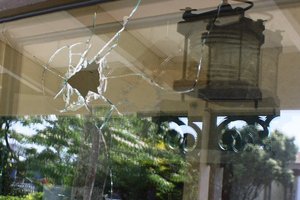 An elderly woman was left shaken after a large bolt was fired through the ranch slider of her Whangamata home.
The woman was asleep about 1am on New Year's Day when she was woken by a loud bang.
Whangamata police Senior Sergeant Rupert Friend said the woman initially thought the noise may have been caused by a rock being thrown through the window of her Weka St house but later discovered it was more sinister.
After hearing the bang, neighbours came to check on the woman and found her curtain ripped and the glass door broken.
"Neighbours rang police about a broken window at the time. Then at first light this morning she noticed a half-inch bolt lying on her lounge room floor and we were called again. Things started to frame a different picture," Mr Friend said.
The bolt smelt of gun powder and a police search uncovered cardboard tubing from fireworks that had been unrolled to get at the gun powder.
Police want to speak to anyone who may have noticed anyone behaving suspiciously in Weka St in the early hours of yesterday.
If you have any information, call Whangamata Police Station on (07) 865 0300 or Crimestoppers on 0800 555 111 to report information anonymously.
For more articles from this region, go to Bay of Plenty Times