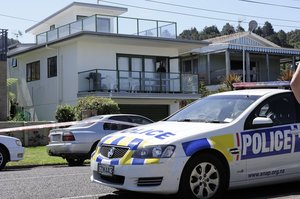 Waihi police are asking for New Year's Eve revellers to supply their festive photographs, in the hope police can identify a man who critically stabbed a holidaymaker.
Police were yet to identify any persons of interest as they tried to piece together the random stabbing of a 64-year-old man at a Waihi Beach property in the early hours of New Year's Day.
The expatriate New Zealander has critical injuries and is in intensive care at Waikato Hospital, supported by his wife and family who have come over from their homes in Queensland.
Police set up checkpoints at the exits of Waihi today (Wed) to talk to holidaymakers as they left the area.
"But this proved to cause too much congestion and we apologise for any inconvenience caused,'' Inspector Dana McDonald said.
Instead, police were now appealing to people who might have taken photographs in the area after midnight.
Police believed dozens of photos might have been taken.
"People often take snaps of New Year's Eve revellers and then think nothing more of them. What we're after is images of people in and around Beach, Hinemoa and Ocean View Roads, the surf club, camping ground and Esplanade between 12.30am and 1.30am,'' Mr McDonald said.
Waihi Beach's normal population is about 3000 but swelled to 16,000 over the festive period.
About 20 police staff are currently working on the investigation, with the likelihood of more officers being called over in coming days.
Mr McDonald appealed to the attacker to give himself up.
"We are also appealing to the offender and his associates..at this stage we have a man who is quite critically injured and we want him or his associates to come forward and help us out.''
Mr McDonald said having the local population swell as New Year's Eve revellers came to the beachside town had been helpful but also problematic.
"There was a lot of people around at one in the morning, and parties were finishing and people were trying to get home after people had celebrations, so there would have been a fair bit of noise,'' he said.
The weapon used in the attack, which is believed to be a knife, has not been found.
A scene examination that started on Tuesday afternoon continued into the night and resumed this morning, assisted by ESR forensic staff.
Officers went door-to-door speaking to people staying in the area who may have seen or heard something during the early hours of Tuesday morning.
"It is this phase which is really crucial for us in piecing together events,'' Mr McDonald said.
Mr McDonald said when the attack occurred, officers were moving on large numbers of mostly young people from the area around the surf club, the motor camp, Beach Rd and Ocean View Rd.
- APNZ