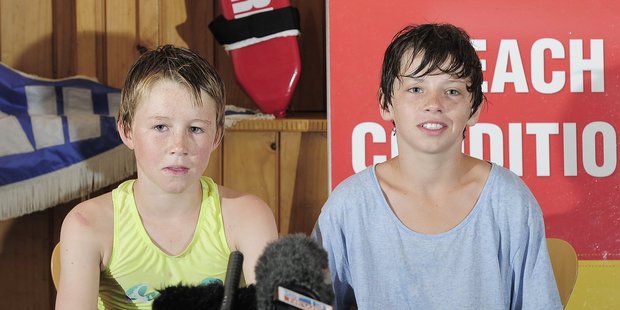 Two young boys didn't think twice about putting themselves in danger when they jumped in a rip to save a drowning man's life.
Will White and Sergio Schuler, both 12, were swimming at the beach near Bowentown in Waihi about 2pm yesterday when they saw a man struggling to stay afloat in a rip about 100m from the shore.
"We were just swimming around in the water and we saw the guy struggling so we thought we better help him," Sergio said.
The large man tried grabbing onto the boys when they reached him but the pair kept their cool and began to swim him back in against the rip.
"He was grabbing us trying to stay afloat," said Will, a Waihi junior surf club member. "He was saying 'help', just all the time. We just kept our distance a bit and tried to encourage him to swim.
"We pulled him sometimes and he followed us sometimes. We were just encouraging him. He would get hit by waves and go under and we had to get him up."
Sergio swam ahead to raise the alarm on shore and then swam back out to help get the man to land.
"We slowly made our way back in to shore and he collapsed on the ground. Then we rolled him onto his side," he said.
Once in the recovery position the man began, vomiting, went into shock and lost consciousness.
Sergio's mum Vivian Schuler called the ambulance and attended to the man until help arrived.
Through it all the brave rescuers were never scared or worried about their own safety.
Waihi paramedic Pauline Davison said the rescuers did everything right while they waited for help.
"They had done an exceptional job. They had put him in the recovery position."
The man was taken to Tauranga Hospital. He was discharged overnight and texted Mrs Schuler to give his thanks and arrange to meet the boys.
For more articles from this region, go to Bay of Plenty Times