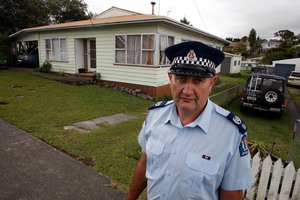 Footage from the police Taser gun allegedly used by a woman against a Northland policeman during a vicious assault is now being used as potential evidence against the attackers.
Partygoers who police say filmed revellers assaulting two policemen in Dargaville on Christmas Day have also had their cellphones seized as officers continue to piece together the events of the brutal beating.
While both officers, aged 47 and 33, had been given days off to recover, they had returned to the station to help with the investigation. The assault happened outside a Tirarau St house about 8pm, where a party was being held.
A witness spoken to by police described the attack as "like a pack of animals circling a wounded antelope".
Whangarei/Kaipara area commander Inspector Tracey Phillips had spoken with a man who was so shaken by the assault he was in tears when recounting what he had seen.
"He wanted to drive his car into the crowd to break them up because he thought they were going to kill the police officers," Ms Phillips said.
"One of the other witnesses thought the cop was dead. It was a sickening description of events."
She confirmed the officer had used a Taser. He missed with the first shot but was able to reload and fired again, hitting a man in the arm.
"Then the pack moved in on him and dragged him to the ground," Ms Phillips said.
A woman then picked up the Taser and allegedly tried to use it on the officer, but failed, then smashed the weapon.
Before using the Taser, one of the officers had used pepper spray.
A 9-year-old girl was caught in the spray as she tried to approach her parents.
The parents were allegedly fighting with the police officer.
Ms Phillips said the partygoers adopted a "pack mentality" that was appalling.
"There is a bunch of really good people in Dargaville but there is a small minority who are idiots."
The violence began after a nearby Brethren Church complained that members had been threatened by youths who yelled abuse and smashed letterboxes.
The Dargaville Christmas Day assault was one of four on five officers in four days, reigniting Police Association calls to arm officers with guns.
Vice-president Stuart Mills said if the officers had firearms they might have approached the incident differently and the bystanders reacted differently.
"Policing is a very dangerous occupation, as this incident highlights. We believe the risk would be reduced if officers had a firearm on their hip."
For more articles from this region, go to Northern Advocate