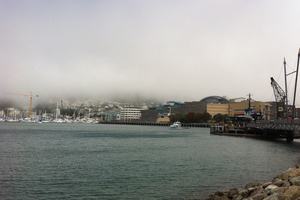 It looks set to be a soggy Christmas Day, but it wasn't rain causing the problems in the build-up to the festive season today.
Travel plans were thrown into chaos when fog rolled into Wellington today, causing flights to either be delayed or cancelled.
MetService duty forecaster Philippa Murdoch said the fog could stick around until at least tomorrow morning.
The fog rolled in early this afternoon, with a south-east wind blowing it over the southern parts of the capital.
An Air New Zealand spokeswoman said jets and small-engine aircraft were affected.
So far, some flights had been cancelled and others had been diverted to Palmerston North or Nelson.
Many flights out of the capital had been delayed by at least three hours.
Flights to Christchurch, Auckland, Nelson, Napier, New Plymouth and Picton had all been affected by the fog.
Fog also brought Wellington Airport to a halt on Tuesday, with about 40 flights in and out of the city cancelled.
Meanwhile, MetService this morning issued a severe weather warning for the upper North Island, as the remnants of Cyclone Evan pushed over the country just in time for Christmas.
A deep low - which was formerly Cyclone Evan - would lie north of Northland tonight, then just west of Cape Reinga by the end of tomorrow, before drifting west of the North Island on Christmas Day, MetService advised.
Rain was expected to become heavy later this afternoon, and continue through Monday and into Christmas Day.
The heaviest rain would hit Northland, Auckland north of Whangaparoa, and the Coromandel Peninsula north of Tairua.
MetService warned holidaymakers and trampers that rivers and streams could rise rapidly and that slips and surface flooding was possible.
Ms Murdoch said the rain in Northland would become heavy this evening, and then ease in the morning.
There could then be another burst of heavy rain on Christmas Day in the upper North Island.
WeatherWatch analyst Aaron Wilkinson said by Boxing Day the low would weaken and move east, bringing a period of rain to most of the country.
The lower South Island could remain fairly dry, he said.
- APNZ