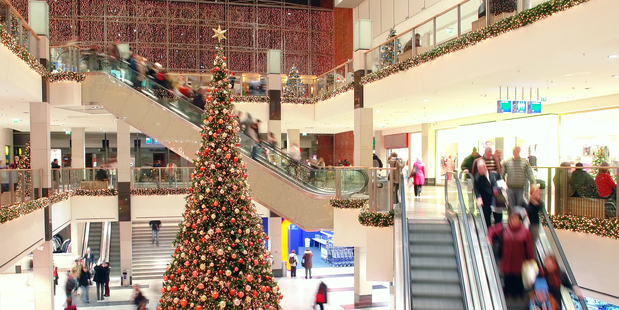 Festive lights, Christmas trees, a jolly Santa waving you in and carols can be the magic formula for retailers trying to lure shoppers in and seal a deal.
Retailers have an ulterior motive for getting into the festive spirit and making this time of year more of an event for shoppers, because this can encourage shoppers to spend more time and money in their stores, according to a new study by the University of Canterbury.
"Department stores in particular are known for their Christmas window displays which are used to draw people in. Equally, performance groups such as choirs, or the ability for kids to meet Santa are all things that can make shopping more of an event at this time of year," Professor Paul Ballantine said.
He said shoppers were becoming smarter about how they shopped and had learned to wait for a sale or to buy goods at the weekend when deals were often better. He said sales were also becoming more in your face to attract the price-conscious shopper.
"What this does (constantly discounting prices) is undermine store loyalty, as people are more willing to shop around, and increases price sensitivity as people no longer want to lose out by paying full price. It also means that consumers anticipate when sales occur."
New Zealand Retailers Association chief executive John Albertson said retailers used everything from sound to smell to make their stores stand out and it was often more profitable than slashing profit margins.
Retailers who got into the Christmas spirit included department stores Smith & Caugheys, Farmers and the major shopping centres.
"If you want, you can sit at home and buy online and that's a compelling proposition. But if you want something more exciting and want to be more actively involved, then the stores have to provide that environment and I think as we head forward this whole concept of in-store theatre is going to become more and more important for those who want to stay in that space."
Mr Albertson did not think that pre-Christmas sales, which seemed to be getting earlier each year, took the shine off Boxing Day sales as he said the main purpose of the sales on December 26 was to clear excess stock.
Westfield shopping centre general manager Linda Trainer said the shopping centre giant worked to provide a Christmas experience that was festive and fun. Customer feedback showed customers appreciated the long-standing tradition of keeping Christmas alive and having a Santa at malls for children to talk to and have a photo taken with.
"Christmas is a time for the community spirit to come alive and it is a customer expectation that the environment reflects the spirit of a festive time."
Customers had expressed preference for traditional red, green and gold decorations.