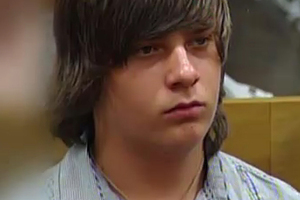 As families around the country gather for Christmas, Kerry Lock walks around his house alone.
His partner Rosemaree Kurth is dead, gunned down by the boy he called his grandson, Jordan Nelson, who was yesterday sentenced to 18 years in prison.
The 13-year-old will serve six years before he is eligible for parole.
The sentence - "if you can call it a sentence'' - was no consolation to Mr Lock.
"Eleven years with no parole would have been better.''
Despite still being someone he still loves, Mr Lock said he doesn't want anything to do with Jordan just yet.
"What he's done is horrendous. I've lost two people that I love and it's ... very hard,'' he said.
``I have been [living alone] since the incident. [It's been] bloody horrible, you just walk around and it's all empty in the house, isn't it.''
Child, Youth and Family (CYF) today acknowledged it had made mistakes in the handling of Jordon's case.
``It is clear that Child, Youth and Family staff should have communicated more effectively with Mr Lock and with Jordan's school,'' spokeswoman Nova Salomen said.
``This was compounded by a delay in transferring Jordan's case. It would appear that a lot of faith was placed in the fact that Mr Lock had been Jordan's primary caregiver for most of his life and was doing a great job as a father figure.''
Mr Lock said he had been asking CYF to do something to help the troubled teenager for months, but he was ``fobbed off''.
Jordan had been to stay with his mother for a few months, and when he returned to Mr Lock and Ms Kurth's care he ``wasn't the same''.
``He'd lost a lot of weight and he seemed solemn in his look - darkish-looking and that - but he put on 15kg when he came back here `cause we fed him up,'' Mr Lock said.
The fact CYF was reviewing its policies now was no comfort to him.
``It's a bit bloody late now. It's like road accidents - they'll only do something if there's so many deaths, whereas this could have been avoided if they had got off their backsides and done something about it.''
Nelson gunned down Ms Kurth while Mr Lock tended to cattle.
In court yesterday, Mr Lock read out a victim impact statement saying he felt his world had ended when he found Ms Kurth dead.
``When I returned from crossing that river on that day and saw the two bloody drag marks leading into the spare room, seeing Rose laying on the floor.''
Justice Paul Heath said Nelson felt Ms Kurth had denied him the opportunity to spend time with his mother and blamed her for his problems.
``None of us will ever know precisely what was going through Jordan's mind when he decided to shoot Ms Kurth. Jordan professes not to recall,'' he said.
``Something happened within his brain that made him shoot and, as I have said, we will never really know what that was.''
- APNZ