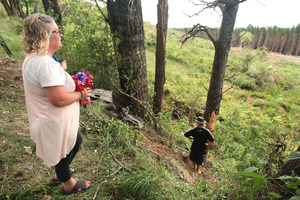 The family killed in a tragic car crash near Whakamaru have been described as close-knit and loving by friends and relatives.
The family of five - Richard Melling, 37, partner Lisa Crowley, 23, and their three children, Jordan Melling, 11, Brody Crowley, 2, and an unnamed 3-week-old baby - were found in a car wreckage off SH32 near Whakamaru on Tuesday.
Mr Melling's aunty Donna Northcott visited the crash site yesterday with her family to pay tribute and lay some flowers.
"Richard was a good father, he had his troubles but had a heart of gold. He loved his children and loved Lisa," Mrs Northcott said.
"Lisa was a beautiful girl, a brilliant mother who loved her children to the max. Lisa was Richard's rock."
Mrs Northcott said they had come up from the South Island this month to see the couple's new baby boy.
Eleven-year-old Jordan lived with his mother and was believed to have come to stay with the couple for the school holidays, just before the day of the crash.
Mrs Northcott said Mr Melling had grown up in Taupo before moving to Whakamaru about 10 years ago where he worked as a gardener doing lawn mowing.
Ms Crowley, whose family live in Mangakino, moved in with Mr Melling about four years ago and would often help him with his work.
Family friend Anna Arthur said she lived two doors down from the family and had become best friends.
"I can't believe it," Mrs Arthur said.
She said Ms Crowley really loved her children and her partner.
"Richard had been in a bit of trouble during his life and Lisa saved him.
"We found them when we moved here and they were like a magnet for us.
"We actually met them when Richard was mowing the lawns and a pregnant Lisa was out weed eating," she said.
When The Daily Post visited the crash scene yesterday afternoon the car shell had been taken away. However, 10m down the bank remained a window screen, the car motor, two car seats and debris.
The bodies of the family members were found on Tuesday by contractors assessing a forest area. Police said the car was believed to have been there for more than 24 hours and Ms Crowley was the driver.
The family were last seen in Whakamaru about 8pm on Sunday.
Police are asking for information from anyone who saw the family's vehicle, a green Honda Integra, in or around the area since Sunday.
If you have information about the crash contact Taupo police on (07) 378 6060.
For more articles from this region, go to Rotorua Daily Post