Kiwi Christmas get-togethers can often begin with big reunions outside Auckland Airport's arrivals gate. This week, the Herald captures some of those precious moments.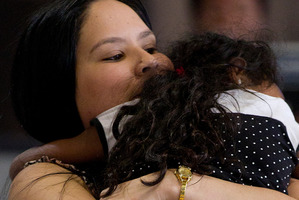 Two boys and a 6-year-old girl race towards the arrivals gate, unable to contain their delight at seeing their eldest sister as she returns home from Australia.
It has been three months since Megan Valu has seen her siblings - Ryan, Liam and Tatum Valu - but to onlookers it looked like it had been years. However, her father Michael Valu joked: "It has not been long enough since we last saw her".
The 21-year-old returned to spend Christmas with her family and celebrate Ryan's 18th birthday. Mr Valu said it was a big birthday which needed to be celebrated properly.
"He'll be the big one-eight, this is a special occasion which everyone needs to be here for."
Ms Valu said it was also a good excuse for a visit, and she would enjoy her month-long trip.
"I've missed my family and friends, so it will be good to see them," she said.
She planned to spend her time visiting the beach and friends, while catching up with loved ones.
"I'll be soaking up the sun and enjoying family time."
The family continued to share hugs and catch up with one another as they exited the airport.
"Gosh, I've so much to tell you. I can't wait to fill you in," Ms Valu told Tatum as they left. Siobhan Leathley