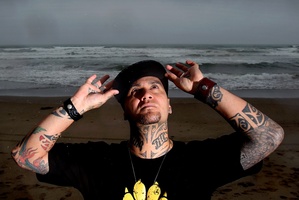 Papamoa-based musician Tiki Taane is gearing up for a Christmas performance at a special night market on Saturday to raise money for the Tauranga Community Foodbank.
The internationally-recognised artist has teamed up with The Little Big Markets organisers Chris and Rachelle Duffy, to raise food and funds for the foodbank.
"We did the same thing last year and it was a huge success so we thought we would do it again," Mrs Duffy said.
"We all had such a great time that even before the night had ended Tiki put his hand up and said he would do it again. It was just a great community evening."
Taane, who is about to jet around the country on a busy summer tour, will be supported by local musicians Regan Perry and Nick Barratt in the family-friendly event. He told the Bay of Plenty Times he was happy to raise money for the foodbank and promote a local event, while having fun at the same time.
"I really like supporting independent events and this is perfect because it's created by the people for the people and I really like that," he said.
"And keeping it local is one of the main things I'm really excited about. It's a really community-based project that's raising money for some great charities ... so I'm hoping lots of people will turn up and help make this year a really big success."
The night market will go ahead rain or shine from 2pm until 10.30pm at the corner of Matai St and Maunganui Rd. Entry is by gold coin donation - all of which will be donated to the foodbank.
Mrs Duffy is also inviting guests to bring along a present that will be given to Homes of Hope children and Women's Refuge.
Mrs Duffy said the event would not have been possible without the sponsorship and assistance from local businesses.
"The foodbank is such a worthy charity, especially at Christmas time when things can get really tough for some people.
"A lot of people are embarrassed to have to ask for help but it's nice to know there's a place like this that can help people who are struggling if they need it."
For more articles from this region, go to Bay of Plenty Times