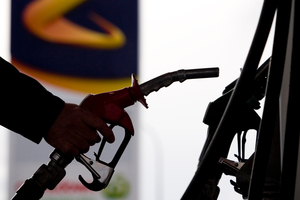 Lively discounting on 91-octane petrol in Auckland is prompting the Automobile Association to renew a call for oil companies to be required to advertise prices of higher fuel grades as well.
Spokesman Mark Stockdale said the level of discounting found in an extensive two-day Herald survey of 162 stations from the Hibiscus Coast to Pukekohe was great for the 80 per cent of drivers who filled up on 91.
"It's good to see there is competition, particularly in the Auckland region, where a third of the population lives," he said.
"For a long time motorists used to complain there was no competition because everybody was charging the same price, but now those motorists' prayers are being answered."
But Mr Stockdale said there was less competition for customers of higher fuel grades because very few oil companies included their prices on boards advertising 91-octane petrol and diesel, and many drivers were paying too much as a result.
Although 95-octane petrol is generally sold for about 8c a litre more than the standard grade, and BP's 98-octane fuel costs 16c more, he said the AA did not accept that the relatively modest extra energy it provided was worth that much extra.
It considered 95-octane to be worth only about 5c more than 91, and some motorists did not even know there was such a grade as 98 before being asked to fork out 16c or so extra.
"It's very confusing - it's very difficult for motorists to know what they are paying because it's not advertised."
The Herald last week found one service station in Blockhouse Bay selling 95-octane petrol for 219.9c a litre, compared with a discounted price of 206.9c for 91, and another in Birkenhead charging 235.9c for 98-octane, although it has since reduced that by 4c.
Mr Stockdale said the AA was calling on the Government to require oil companies to advertise all their fuel prices, although its preference would be for them to do so voluntarily.
Consumer Affairs Minister Simon Bridges, who also holds the associate transport portfolio, told the Herald earlier he did not favour regulation, as motorists had it in their power to prompt fuel companies to advertise their prices. "Ultimately it is a matter of consumer choice and I wouldn't act to compel service stations to act on this," he said.
"But I understand some stations already do that, and I would have thought that was a competitive advantage to them.
"My view is that when consumers feel strongly about something and act together about something ... they can make a difference - they can vote with their feet."
BP spokesman Jonty Mills said all his company's fuel grades and prices were clearly marked at the pumps, but its advertising boards were already congested with information and the oil industry was one of very few which displayed product prices on roadsides.