Kiwi Christmas get-togethers can often begin with big reunions outside Auckland Airport's arrivals gate. The Herald will capture some of those precious moments over the course of this week.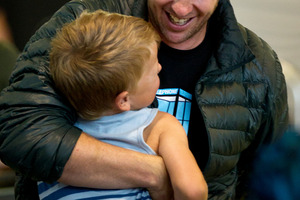 As well as smiles and hugs, Marc Checkley carried gifts for his niece and nephew.
The 36-year-old had flown in from Singapore, where he lives with his partner, Szechuin Lee, 38. Braith, 6, was the first of his extended family to leap into his uncle's arms.
He pulled two soft toys out of a suitcase - one of them an Angry Bird from the popular game series.
"I know Braith loves them - he's so cute, look at him he's already doing the actions."
Mr Checkley and Mr Lee had a civil union ceremony in New Zealand about a year ago. His niece, Casey, was 6 months old then, and now she's an 18-month-old who was still a little shy about going in for a cuddle with her mother's brother.
The holiday will last until New Year's Day. There will be visits with friends and a trip to Wellington, where the pair plan to go to the movies to see The Hobbit.
"There will be a whole lot of parties," Mr Checkley said.
Yesterday, though, was about family, and a barbecue at home in Glenbrook. His mother, Gillian, said it was always special to have both of her children close for the holiday season, the first time in three years.