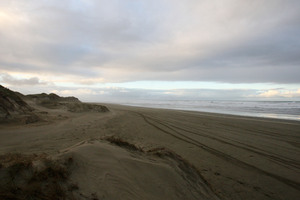 A road worker died after the ute he was driving hydroplaned like it was "on ice" and rolled on Northland's 90 Mile Beach.
A coroner has found Thomas Walker, 27, suffered serious head and chest injuries when he was thrown from the vehicle near Ahipara on May 1, 2009.
Mr Walker had been travelling in the company vehicle with his work colleagues and cousins, Richard and Isaac Leef.
The men intended to go fishing on the beach before heading to work on a road construction project at Cape Reinga.
Isaac Leef usually drove the company ute but Mr Walker took over because his cousin had recently lost his licence for drink driving.
The ute was travelling about 80km/h when it hit a patch of water, dug into the sand, flipped in the air and rolled, coming to rest on its roof.
The speed limit is 100km/h.
Richard Leef, who was in the front passenger seat, said the ute hydroplaned "like going on ice".
Mr Walker was thrown 12 metres from the vehicle while Isaac Leef, who had been asleep in the back seat, was thrown about 16m.
Richard Leef managed to crawl from the ute, bewildered and dazed, to see the two men lying several metres apart.
He tried to talk to Mr Walker but his breathing was laboured and his mouth was filling with phlegm. He held Mr Walker's hand and felt his cousin squeeze it back.
Mr Leef placed a jacket over his cousin and put him in the recovery position before going to check on his brother, who was also seriously injured.
He then tried to call emergency services but could not get cellphone reception.
Mr Leef ran more than 2km to get help from another motorist, returning to find Mr Walker had stopped breathing.
Police found debris strewn across the beach.
Toxicology tests showed none of the men had been drinking, but Mr Walker had consumed the equivalent of one cannabis joint in the four hours before the accident.
A police crash report noted Mr Walker was not driving to the conditions and was driving too fast when the ute hit a patch of water.
Northland Coroner Brandt Shortland found Mr Walker had been driving reasonably safely before hitting a patch of beach with enough water on it to make the vehicle aquaplane.
He noted that 90 Mile Beach was a recognised roadway from Kaitaia to Cape Reinga, but its changing conditions made it inherently dangerous.
Coroner Shortland said it was fortunate Mr Walker's cousins had survived, although Isaac Leef had suffered serious injuries from which he was still recovering.
- APNZ