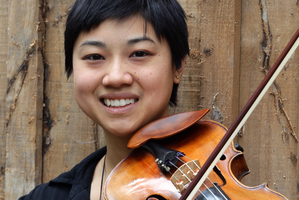 Talented Natalie Lin is home on a high after becoming the first Kiwi to make the closing stages of New Zealand's leading international music contest in almost a decade.
The 23-year-old Aucklander has been named as one of 18 semifinalists from a dozen countries in the Michel Hill International Violin Competition for 2013.
The last time a New Zealander got that far was in 2003, when Natalia Lomeiko went on to win. Lin, who is studying at the Cleveland Institute of Music in the United States, is delighted to be performing in front of a home audience.
"This is a huge personal achievement and achievement for New Zealand," Lin told the Herald on Sunday.
"I came back to Auckland from America on Wednesday to see my family and next day was told I was in the semifinals. I was shocked."
Jewellery magnate Sir Michael Hill said he was thrilled Lin had made the cut. "It is extremely gratifying to see that New Zealand in particular has done so well this time ...
it's really fulfilling my dreams," he said.
"If New Zealand as a country wants to be part of the real world, New Zealanders need to compete at an international level."
The competition takes place over two rounds in Queenstown next June before six violinists are selected for the third round in Auckland, with the top three competing in the final.