Powerball hero Trevor Cooper announces engagement.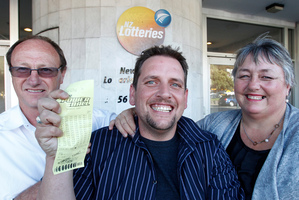 Race car-loving Lotto millionaire Trevor Cooper is lucky in love.
The $27 million man confirmed this week he is engaged - but he is not yet willing to share the identity of his fiancee.
Cooper told the Herald on Sunday he wanted to keep her out of the limelight after a whirlwind of media interest since he won big with Powerball in May.
About the recent engagement, which he announced to friends on his Facebook page, he said: "I'm keeping that very quiet, I'm not disclosing any names to anyone."
Cooper said he and his new fiancee wanted to keep their lives private.
"You've got to have a private life at some stage," he said. "We haven't told anyone anything, we want to keep it to ourselves."
Cooper said his life had finally settled down after his life-changing win but he was enjoying travel opportunities and had started a new American-based business dealing in his passion of race cars.
He had struck up a partnership with renowned American race car driver Cory Kruseman and was bringing him to New Zealand.
"I'll have Cory Krusemen racing for me here in New Zealand and I'll be racing for him in America," Cooper said.
Kruseman is the first driver to visit New Zealand after winning America's Chili Bowl nationals, in 2000 and 2004.
The International Midget series kicks off with a 25-lap feature race on Boxing Day night at Western Springs. The world 30-lap derby follows on December 29.
Cooper has bought two new midget cars for the season and will unveil them on Boxing Day.
His other big spending has been on property. He bought a house in the Franklin district for $2.2m, and bought nearby million-dollar-plus properties for his parents and sister.