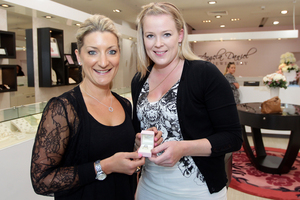 Kristan Deed won a $35,000 diamond ring this week and it was put to immediate use - she got engaged.
The 29-year-old won the Angela Daniel Jewellery diamond ring competition, run by the Herald on Sunday and its sister paper the NZ Herald.
News of her lucky win prompted her partner, Conrad Hooton, to pop the question, and the pair announced their engagement on Wednesday. "It was just quite casual."
Not bad for someone who said she'd never won a prize in her life.
But Deed said she'd had a feeling she would win the ring, which includes 169 diamonds set in 18k white gold.
There were 160,000 entries for the prize, despite Deed's best efforts at dissuading others.
"I was saying to everyone from the start, 'don't bother entering - I'm going to win it'. I had this funny feeling about it. There's always got to be some dreams that come true."
She loved jewellery and was looking forward to admiring the ring on her finger.