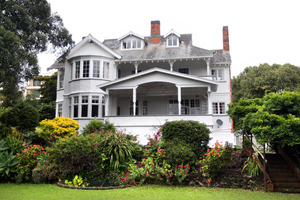 A Remuera mansion made famous in Gloss, the hit 80s TV series, is for sale.
In the show the seven bedroom, four-storey home with sweeping views over Auckland was known as the Redfern Mansion, home to family matriarch Olivia Redfern, played by Yvonne Lawley.
The circular drive was often seen in the show which followed the opulent lives of a fictional family of magazine publishers.
But the real family who have owned the home for four generations say the house is a far cry from the yuppies, shoulder pads and sports cars that frequented the grounds during filming.
"Growing up here was like something out of the Enid Blyton books, making huts, adventures, bows and arrows," says Jonathan Macdonald.
Secret doorways, hatches and attics made for great fantasy play for Jonathan and sisters Penny and Rachel.
Jonathan's father, well-respected Remuera neurosurgeon Dr Graeme Macdonald, died a month ago of complications from Parkinson's disease.
Dr Macdonald grew up in the house then bought it from his parents and raised his own family there with wife Joan.
"We would love to keep the house," says Jonathan, "but, because of the size and gardens, it is a huge undertaking."