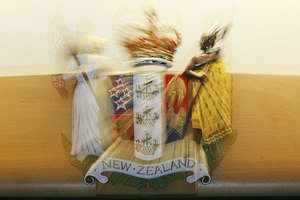 The man accused of murdering two men at a million-dollar Mt Albert mansion has had his bail conditions relaxed.
Cheng Qi Wang is accused of murdering Zhuo "Michael" Wu, 44, and Yishan "Tom" Zhong, 53, on January 14 last year at the mansion where he was staying.
Today he was back in the High Court at Auckland where Justice Mary Peters removed an overnight curfew condition that required Wang to be at home between 10pm and 7am.
However, in removing the condition, Justice Peters ordered Wang to report to the Mt Albert police station twice a week.
The legal arguments that took place in court cannot be reported.
Wang has faced two High Court murder trials and is set to face a third next year.
A wide-ranging suppression order is in place which prevents reporting of the Crown case against Wang.
But at his February trial, Crown prosecutor Kevin Glubb said a struggle took place in the mansion, leading to 23 knife wounds on Mr Wu, who collapsed down a central staircase and died.
Mr Zhong suffered three knife wounds and a bite on his right forearm and stumbled out the front door and down the driveway before dying in a bush in the garden.
Wang argued he had acted in self-defence. The trial was aborted after two jurors were excused and Wang decided not to continue with the trial, as was his right.
A second trial in August was also aborted.
apnz eg cr