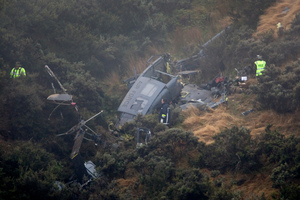 The 78 recommendations made after an inquiry into the 2010 Anzac Day Iroquois crash are not enough to prevent another tragedy, an independent review says.
The Defence Force has adopted the "majority" of the safety recommendations from the Court of Inquiry's investigation but the independent review released today says those recommendations alone "will not be enough to ensure that another major accident will not occur".
Strengthening the governance role of the Air Force Leadership Board is "critical" and should include regular reviews of issues such as the affects resource allocation "may be having on operational safety", the report says.
Three people were killed when the Iroquois crashed on April 25, 2010.
The Court of Inquiry in December last year focused on the chain of events that led to the particular crash rather than a "system-wide analysis" of Air Force activities, the review says.
The review found 85 per cent (23 out of 27) of the major recommendations and 98 per cent (50 out of 51) of the additional recommendations were complete.
All 78 recommendations will be implemented by June next year.
Defence Minister Dr Jonathan Coleman said the Air Force was "taking every step it can take to ensure it never happens again".
- APNZ