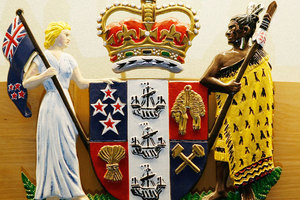 A drink-driver who swerved to avoid hitting a vehicle in the centre of Featherston drove into the path of an oncoming police car, forcing the driver to brake severely to avoid a head-on crash, Masterton District Court heard yesterday.
David Tahana Morrell, 57, of Featherston pleaded guilty to driving with a breath alcohol reading of 1116mcg per litre of breath.
The legal limit is 400mcg.
Prosecutor Sergeant Garry Wilson said Morrell had been driving south on Wakefield St, Featherston, just after 9pm on November 24.
When he swerved to avoid hitting a car he had headed straight into the path of the northbound patrol car whose driver took emergency steps to avoid a crash.
A breath test revealed Morrell was almost three times over the legal drink-drive limit.
Solicitor Louise Elder said Morrell had been on the way to visit his estranged partner.
He had been stressed by his personal relationships and had "resorted to drinking".
Ms Elder said the relationship with the woman was now over and as a result of being caught Morrell had already lost his job in Masterton as he was unable to get to work.
He had no income as he was in a standby phase until being able to qualify for the unemployment benefit.
Ms Elder said Morrell had struggled with alcohol in the past but had undergone counselling with an addiction service, which was again available to him.
Judge Tony Walsh said the breath alcohol reading was very high and that Morrell had previously been convicted of drink-driving in 2003, when he blew 856mcg per litre of breath.
He sentenced Morrell to 80 hours' community work, six months' supervision, disqualified him from driving for a year, and ordered him to undergo any alcohol or drug counselling deemed necessary by the probation service.
For more articles from this region, go to Wairarapa Times-Age