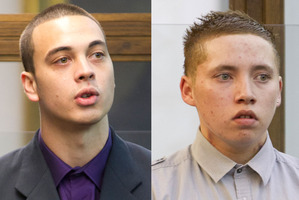 A jury has seen footage of a teenager, accused of killing a Wellington journalist, putting the blame squarely on his friend.
Manuel Robinson was being questioned by police about the death of Radio New Zealand bulletins editor Phillip Cottrell, three days after the 43-year-old was beaten in central Wellington as he walked home from work after an overnight shift.
Robinson, 18, and Nicho Waipuka, 20, are on trial in the High Court at Wellington for Mr Cottrell's murder.
The pair had been arguing in the hours before the attack on December 10 last year, because Waipuka had wanted to assault someone, Robinson told Constable Jana Peterson in the taped interview.
"He kept telling me he wanted to hit someone and I kept telling him 'no'.''
The pair were walking up Boulcott Street just after 5.30am when they spotted Mr Cottrell walking down the street.
Robinson said he was on the other side of the road to Mr Cottrell, but Waipuka was on the same side.
He said he was running up the street because he thought Waipuka was going to be violent and when he turned around he saw Waipuka punch Mr Cottrell in the face and Mr Cottrell fell to the ground.
"I looked back and I seen (Mr Cottrell) going down and that's when I saw (Waipuka) grab the wallet. He might have ended up kicking him or something.''
Robinson insisted he did not take part in the attack.
"I was not involved bro. You can ask Nicho and he'll tell you straight up I was not involved,'' Robinson said.
After the attack, Waipuka caught up with Robinson further up the street, he said.
"I knew he had taken something, you could just see it in his face.''
Robinson said Waipuka then told him he had taken Mr Cottrell's wallet.
He said Waipuka told him there was just cards in the wallet, but didn't mention $80 that was inside.
The trial continues.
- APNZ