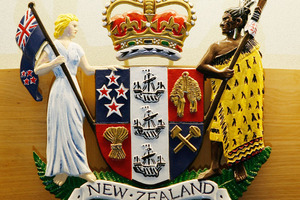 A 16-year-old's birthday ended with a man running over one partygoer three times after an argument, a court has heard.
Tuwhare Heremaia was sentenced in the High Court at Auckland this morning to four years and five months in prison after earlier pleading guilty to causing grievous bodily harm and injuring with reckless disregard.
Justice Murray Gilbert told him that his actions could have killed one of his victims.
The court heard how the 25-year-old and his partner had arrived at a Manurewa birthday party "after drinking a box of alcohol" in the early hours of September 10 last year.
He and his partner got into an argument with 16-year-old Jackson Nepe in the front yard before other party-goers, including Mr Nepe's dad Shane Chapman, came outside to see what was causing the noise.
Mr Nepe punched Heremaia in the face before Heremaia ran off and was picked up by his partner in a car.
They drove away before Heremaia took the wheel and returned to the party.
Justice Gilbert said on the way they stopped to talk to a person on the street. Heremaia told the witness: "I am going to run them over, what do you think?"
Heremaia drove the car up on to the footpath in front of a group of party-goers before he reversed and accelerated his car towards them.
He hit Mr Chapman and knocked him to the ground. Heremaia reversed again before driving over Mr Chapman two times.
Mr Nepe tried to save his father by reaching into the car in an effort to snatch the keys out of the ignition but he couldn't get them and Heremaia sped off.
Mr Nepe was left with his abrasions while his father was taken to hospital with life-threatening injuries.
Mr Chapman was left with broken ribs, a ruptured spleen and a laceration to his liver.
Justice Gilbert said one doctor estimated it will would five years for him to recover.
In sentencing, he took time off Heremaia's sentence for a restorative justice conference he had taken part in, and his remorse.
"Both Mr Chapman and Mr Nepe have forgiven you and do not want you to go to prison."
- APNZ