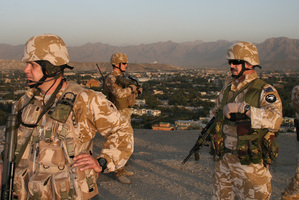 Former Afghan interpreters who have worked with the New Zealand-led Provincial Reconstruction Team in the last two years will be offered refuge here under a widened assistance package, the Government has announced.
The former interpreters will be given the option of resettlement, joining the 21 current interpreters that have already opted for resettlement after it was offered in October.
Defence Minister Dr Jonathan Coleman and Immigration Minister Nathan Guy announced the extra assistance package today for those who have worked with the Defence Force and New Zealand Police in Bamiyan, Afghanistan.
In October all interpreters currently employed by the PRT in Bamiyan were offered an assistance package with an option of resettlement with their dependants or a three-year salary.
Dr Coleman said the extended package for former interpreters had been approved by Cabinet.
"The local employees have provided a valuable service and particularly the interpreters as they worked side-by side with the PRT on patrols. This is a balanced duty of care package that is both affordable and manageable," he said.
The assistance package:
- Offers a resettlement option for former interpreters who have resigned from employment with the New Zealand Government at the PRT in the two years since December 1, 2010. Up to six individuals and their dependants are expected to be eligible.
- Offers a resettlement option to interpreters effectively working for NZ Police through the EUPOL operation in Bamiyan. Up to four individuals and their dependants are expected to be eligible.
- Provides a one-year salary payment to all other current locally employed staff based at Kiwibase in Bamiyan township.
- Provides an additional $10,000 lump sum payment to a number of local staff who have at times worked in Bamiyan's northeast, such as mechanics and engineers.
"This is a tiered response which demonstrates a goodwill approach by the Government for those who assisted the reconstruction effort in Bamiyan," Dr Coleman said.
Others who did not qualify for the resettlement assistance have been advised to write to the Ministry of Immigration to request a grant for residence.
The current package means up to 116 individuals (interpreters plus dependants) will be resettled to New Zealand.
Interpreters or other locally employed staff who were dismissed for either theft or dishonesty were not eligible, the Government said.
- APNZ