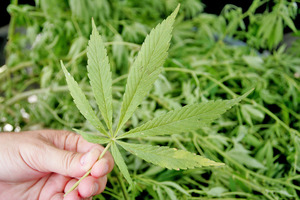 A drug-dealing grandmother who drove around Wellington for years delivering cannabis has been jailed for nearly seven years for her part in a multimillion-dollar drug syndicate.
Sandra Jacqueline McMahon, 68, had earlier pleaded guilty in the Wellington District Court to charges of selling cannabis, possessing cannabis for supply and money laundering.
In the High Court at Wellington today, Justice Alan McKenzie said McMahon was part of a large-scale drug commercial operation over seven and a half years.
The Crown said she earned up to $8 million, while her defence said the profits were more around the $2 million mark.
"It is clear that this was a very substantial operation indeed," Justice McKenzie said.
The petite cleaner, wearing a beige cardigan, stood silently in the dock while the judge handed down his sentence.
One of her three children was in the public gallery to support her.
Justice McKenzie said McMahon had over 150 customers and would make more than 20 sales a day.
She was arrested in June while driving in Wellington making her one of her daily deliveries.
"Your main motivation was profit and you continued to offend even when you knew police were monitoring you," the judge said.
McMahon had laundered $214,100 through banks, and in an effort not to be recognised, avoided bank tellers and used fast service deposit boxes.
She also received national superannuation, Justice McKenzie said.
A pre-sentence report found McMahon felt remorse for her family but little remorse for her offending.
McMahon's son, 48-year-old Craig MacMahon, also faces charges, which he will defend.
- APNZ