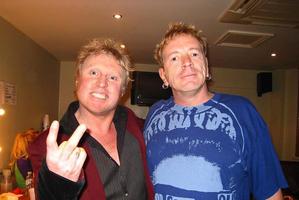 A man has been arrested in connection with the murder of New Zealand punk singer Steve Andrews, who died after a fight outside a London pub.
Well-known on the Wellington punk scene as the singer of local band Vas Deferens, Andrews suffered serious head injuries in the fight outside the Duke's Head pub in Putney shortly after midnight Sunday.
The 46-year-old was taken to hospital but died shortly after 6pm that day.
A 28-year-old man handed himself in to police at a station in Exeter, more than 300km away, on Tuesday afternoon local time.
Police were interviewing the man after arresting him on suspicion of murder.
Andrews, whose band Vas Deferens formed in 1988, was thought to have been celebrating his girlfriend's birthday before the attack.
The Wandsworth Guardian reported he had been living in London, where he worked as a postie, for 15 years.
His family in New Zealand have been informed of his death.
Tributes have flowed for the late punk online.
"When I arrived in Welly in 91 as a baby punk, he was one of the first people I talked to. Completely smiley and friendly and directed me to Scribblers for Happy Thursday, as well as upcoming gigs. RIP mister," Seera Kilduff wrote on the Wellington Up the Punks Facebook page.
Gareth Smith wrote Andrews was an "amazing performer, talented frontman".
"He effected people in such a fun and positive way ... always great to be on a stage with."
Tributes on Andrews' Facebook profile have described him as an inspiration and a true rock'n'roll gentleman.
Paul Ahern said he could not believe the death.
"Steve was the last person to look for a fight, he was way too friendly. Bye bye mate I will miss you heaps.''
Nadia Perrott wrote: "Such a gentle, caring soul and a star both on the stage and off. You'll be sorely missed by so many all over the world.''
Friend Ross Barkman said Andrews had said he was going to an Eddie and the Hot Rods gig at Half Moon in Putney, near the Duke's Head, on the night of the incident.
"Whether he was actually at the Dukes Head for a post-gig drink, or just walking near it, I don't know.''
He was also remembered on the punkas.com forum.
"Steve was a good guy, always looked like he was having fun...I knew him in the 80's but hadn't seen him for years, last time I saw him he was singing for Flesh D-Vice....
RIP Dude..." Mememe wrote.
Police in the UK are calling for information on the incident.
- APNZ