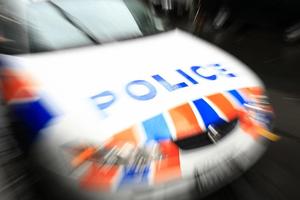 Rotorua police are looking for the driver of a car which may have done a u-turn and caused a serious crash on State Highway 5.
A dark blue Holden sedan lost control and crashed into a bank about 2pm yesterday, south of Tamaki Tours Village.
Sergeant Mike Membery said the Holden's driver, who was travelling south, had to take evasive action to avoid crashing into a car which did a u-turn in its path.
Four people in the Holden, including a child, had been taken by St John Ambulance to Rotorua Hospital for observation. Mr Membery said a woman had suffered cuts and a child had more serious injuries.
Thankfully all the occupants were belted in, he said. "It does lessen the injuries.
"We're looking for an old type of motor vehicle that's possibly done a u-turn in front of them [the crash victims]," he said. "That driver may have been unaware that they've caused the crash."
Mr Membery said police would speak with the people in the Holden once they had received medical treatment.
Investigations were at an early stage but police hoped witnesses to the crash would come forward with a registration plate or a description of the car they were looking for.
He also hoped the driver of the vehicle which did the u-turn might realise they had caused the crash and contact police.
Anyone who saw the incident is asked to contact the Rotorua police station on (07) 348 0099 or 0800 TIP OFF.
For more articles from this region, go to Rotorua Daily Post