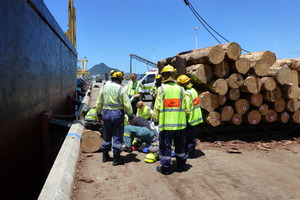 An 18-year-old woman was seriously injured when a half-tonne log fell on her at the Marsden Pt wharf in Northland yesterday.
The Northland Emergency Services Trust helicopter flew her to Whangarei Hospital, where she was in a critical but stable condition.
The young woman is a waterside worker employed by ISO, a stevedoring company based at Mount Manganui but with more than 50 staff working at Northport.
It is understood she was barcoding logs and preparing them in a heap that was to be loaded on to the ship Lake Arafura, which is registered in Panama and was bound for China, when the incident occurred about 1.30pm.
The Ruakaka Fire Brigade was called to secure a landing zone on the wharf for the rescue helicopter.
A Ministry of Business Innovation and Employment safety inspector has been on site to investigate and will issue an official report on the accident.
It is believed to be the first such injury at Northport.
For more articles from this region, go to Northern Advocate