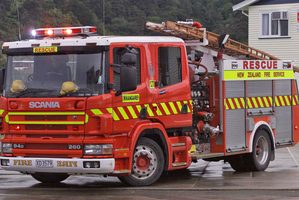 The owners of a historic building destroyed in a central Christchurch fire are not ruling out a partial rebuild or a replica being erected.
The early 20th century Billens Building on High Street collapsed during a suspicious blaze on Friday night.
The building is now owned by the Christchurch Heritage Trust which planned to spend $4 million repairing the now collapsed facade.
Trust chairman Derek Anderson said it leaves a large hole in an important historical area, and big decisions will have to be made at a board meeting tomorrow.
"We may well rebuild and we may even put a replica frontage on it of the character of the area, to try and preserve (it) - that decision's yet to be made," Mr Anderson said.
Police and fire investigations are continuing into how the fire began.