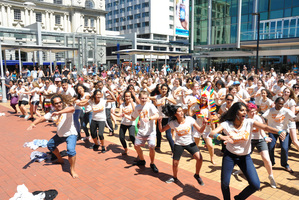 A flashmob of 800 - the country's biggest yet - yesterday challenged New Zealand to do more on climate change.
The young activists performed a dance on Auckland's Queen St "portraying the effects of climate change". The flashmob was organised as the culmination of a "Power Shift" youth conference held at the weekend.
"It's shameful that a nation that prides itself on innovation, justice and moral leadership acts so irresponsibly on the international stage," said Power Shift organiser Brittany Packer.
"Our Pacific neighbours are already at the forefront of the climate change, threatened by rising sea level, desalination and extreme weather, but our leaders continue to ignore the abundance of opportunities to move beyond fossil fuels."
Climate Change Minister Tim Groser has for the past week been forced to defend NZ's withdrawal from commitments to reduce carbon emissions under the Kyoto Protocol.