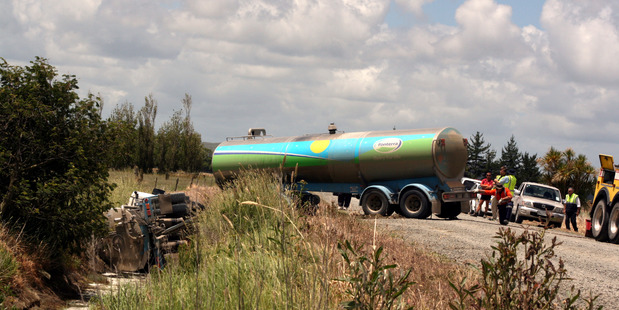 The driver of a Fonterra milk tanker was killed yesterday when his truck crashed into a drain near Dargaville.
The man died at the scene, said Northland fire service spokesperson Tania Matthews.
The crash is the eighth involving tankers this year - mostly Fonterra vehicles.
A Fonterra spokesperson said the company was investigating the crash but said driver training was a priority.
"We invest a lot of money upgrading our fleets and getting the most energy efficient and safest trucks we can on the road. Health and safety is our No 1 priority."
Meanwhile, emergency services attended a crash in Pt Chevalier, Auckland, yesterday when a car smashed through a brick wall into a swimming pool.
The Herald on Sunday understands the driver hit the wrong pedal of her new Suzuki.
"She's been driving this way for 10 years so she knows the road, but the car is new," said her partner Mamad Kadir.
"We think perhaps she hit the accelerator instead of the brake."
The woman was not badly hurt. No one was in the pool.
"My son is away at the moment but if he was home he would have been in the pool today," homeowner Michaela White said. "We are relieved no one was hurt."
Two people received minor and moderate injuries in a crash near Helensville yesterday. And further south in Waikato, the occupants of three cars escaped injury in a pile-up near Te Awamutu.
Police named the elderly woman who died on Friday, crossing a road in Hamilton. She was Eileen Reardon, 77.

Milk tanker crashes this year
March 15: Fonterra tanker overturns in Balclutha.
April 9: Fonterra tanker and car collide near Tauranga.
September 9: Tanker contracted to Open Country Dairy overturns near Cambridge.
October 14: Fonterra tanker kills teen cyclist near Kawakawa.
October 20: Fonterra tanker crashes into pole in Mataura spilling 15,000 litres of milk.
November 9: Tanker carrying 25,000 litres crashes in the Awakino Gorge.
November 11: Fonterra tanker with 27,000 litres crashes, Palmerston North.
December 8: Tanker crashes near Dargaville, killing the driver.