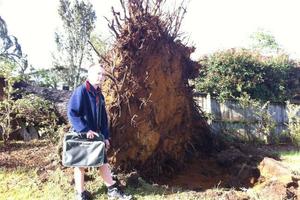 The Paul family's next fishing trip has been cancelled after yesterday's storm in Auckland felled a massive tree onto the family boat.
Seb Paul, 11, was at Whenuapai School when the tornado struck.
"One of my friends' mothers came to school and said the house with white fence - the big tree fell on it.
"I thought, 'Oh no, that's my house' and I was quite nervous."
Fortunately his family was okay.
Seb said he was shocked to see the storm could bring down a tree so large.
Fortunately the rest of the Waimarie Avenue property escaped relatively unscathed, with several trees out the back felled and damage to the front gate.
Three people died in the storm, which also damaged about 150 houses and forced 250 residents to evacuate to the nearby Whenuapai air force base.
- nzherald.co.nz