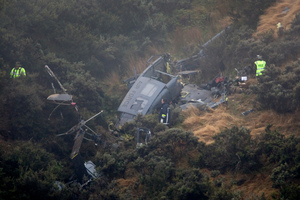 Chief of Defence Force Lieutenant Rhys Jones told a Parliamentary committee today lessons had been learnt from the fatal Anzac Day helicopter accident two years ago.
Lt Gen Jones told the foreign affairs, defence and trade committee a family liaison person would be employed to work with families of soldiers, sailors and air force personnel who die while on duty.
He said a general review was still being worked through, but issues around notifying next of kin were a concern. "In the modern age when more and more families have split parents -there is a legal requirement on who is listed as next of kin."
He said it caused some families angst when another family members had been listed as next of kin - there is a legal requirement to use who is listed as the next of kin. The questions come after a safety inquiry found the crash which killed three RNZAF crew and seriously injured another on Anzac Day 2010 was avoidable. they inquiry found safety failures, internal confusion over standing orders and potential air force-wide issues.
The Court of Inquiry made 27 of its own recommendations and endorses 51 other changes recommended as part of the investigation. They range from locator beacon upgrades to ground proximity warning systems to study wider air force issues.
The air force's internal accident analysis report, formed part of the evidence to the Court of Inquiry.
Lt Gen Jones said the report identified some issues that were not directly related to the fatal helicopter crash. "They are useful to pick up as the air force and solve; I'm confident they have been picked up from the report and implemented by the Air Force. When asked what the report recommended and what changes would be implemented he replied: "I do not have the details of such changes at hand, but I've been talked through all of the recommendations that have come out, they are more about some of the other processes, like flight administration, about
the documentation, about the supervision and setting up of a new headquarters to oversee the organisation of flying and safety standards."
Despite some details of the air accident report being in the public arena, Lt Gen Jones defended not releasing the report.
"The report is evidence to the Court of Inquiry - where their desire is to keep the attitude of open, free, frank advice rather than fear of being quoted or published in here; it's best to keep that relatively confidential," he said.
The New Zealand Defence Force were directed to make distribution between $350 million and $400 million of savings by 2014.
The Anzac day crash in 2010 killed pilot Flight Lieutenant Hayden Madsen, 33, co-pilot Flying Officer Daniel Gregory, 28, and crewman Corporal Ben Carson, 25. Survivor, Stevin Creeggan, is seeking permission from the courts to prosecute the air force under health and safety legislation.