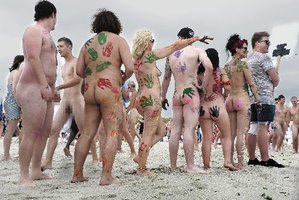 Stories making headlines across New Zealand at noon include a man who stumbled across lots of people running naked on a beach, what does Kim Dotcom and UFO sightings have in common and brides have been dancing on a beach trying to prevent the end of the world.
When Papamoa resident Kevin Prince stumbled across a whole lot of people running around naked on the beach, he apparently thought "what the hell', stripped naked and joined in.
Meanwhile in Rotorua quite a crowd has apparently been looking for a place to safely and comfortably socialise in the nude.
What do the lunar landings, the Kim Dotcom saga, flying saucers and UFO sightings, the Mt Tongariro eruption, the Holy Grail, the 9/11 attacks and the war on terror, the Urewera raids and the Mayan calendar have in common?
Meanwhile nearly 100 brides danced on the sand at Doctors Point Beach to convince the gods to continue the world.
Police returned bloodstained knives used in the murder of a young Dunedin mum to her family in a box with other items still covered in blood.
Cafe owner Antoinette Cherrington took money from her employees wages for income tax and student loans but didn't pay it to IRD.
Over a third of houses in the Ruakaka South Sewer Scheme Extension have now been connected to the new system.
Rotorua's lakes are bursting with water with water levels across the region reaching all-time highs.
Here's some pictures from the Rotorua Christmas Parade. Meanwhile more than 30,000 people lined Mount Mainstreet for the annual Santa Parade.
The speed of the Dunedin Santa Parade apparently had the seven dwarfs holding on to the chins of their oversized heads, making them appear quizzical.
Meanwhile Santa Claus was up against some serious competition at this year's Waitaki District Christmas Parade.
The risk of using the back road to Rotorua on SH 29 over the Kaimai Range has gone up from medium-high to high.
A huge scrub fire in Te Puna may have been started by a train. Meanwhile the future of Gisborne's vintage tourist train Wa 165 remains uncertain.
Gisborne and Hawke's Bay would apparently be wise to prepare for an "oil rush."
Wanganui apparently has a lot to offer tourists this summer despite not making a national "must-do" tourism list.
A price has been put on the former Hikurangi rest home in Wanganui and it is way under Government valuation.
High winds lifted roofs and blew down a fence in Featherston.
Meanwhile alcohol is apparently fueling street fighting in Masterton.
Cyclists will apparently be the big losers in the new Christchurch central city traffic plan.
Tourist John Liew from Singapore swerved to avoid what he thought was a squirrel on the road.
Hidden among Dunedin's historic buildings, rhododendron gardens and trendy cafes is a community in which mothers, businessmen, labourers and the unemployed have one thing in common - drug addiction.
Staff at Meadowbank Dairy were robbed at knifepoint on Friday, as an Oamaru man allegedly took off with $150 of synthetic cannabis.
Greymouth parents Heather and Dave Gunter are still waiting for answers as to why their "perfectly healthy" 15-year-old son, Matt, died after having his appendix removed at Grey Base Hospital.
Top trending topics on Twitter in NZ at Noon were: #ProudToBeAFanOf, #MentionSomeonePretty, #VoteUnionJ03, #NZGT, #ask5sos, Christmas, Clara, Evan, England Xmas