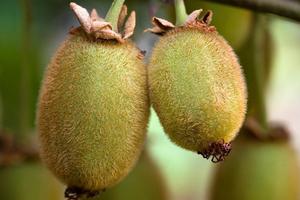 Two kiwifruit orchards in the Gisborne district have now been confirmed as having the Psa-V vine-killing disease.
Further test results have confirmed the outbreak on the first orchard where it was found at Te Karaka, inland from the city, while a second affected orchard was identified this week.
"Kiwifruit Vine Health has introduced a total exclusion zone for the whole of the Poverty Bay flats area now, as a result of the second outbreak," said Gisborne regional committee member Bill Thorpe.
That move requires growers to apply prescribed management systems and prohibits the movement of plant material to or from orchards.
"One of the transmitters for Psa-V is organic matter, which obviously includes plants and pollen."
Minimising risk is therefore vital, he said.
"Gisborne has had the benefit of 18 months' lead time before the virus arrived here, and hopefully growers have been able to learn from the experiences of growers elsewhere."
Mr Thorpe says growers have been well briefed by KVH on the requirements around the PSA problem.
On a positive note he says the green variety fruit on orchards in the Bay of Plenty appears to be handling the PSA challenge well.
"The original gold variety appears to be the variety that is most challenged."
KVH reports that over 2000 kiwifruit orchards around New Zealand are now affected by the disease, involving 68 per cent of the national hectarage.
- The Gisborne Herald