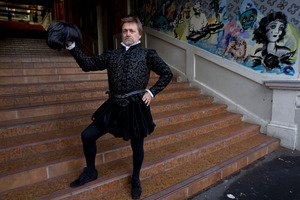 Renowned actor Michael Hurst has been left frustrated and scratching his head as to who would steal his personally tailored Elizabethan doublet and hose costume.
"What would someone do with a custom-made costume? It was such a personal thing because it was all my own idea and we created it and it's perfect for what I do," he said.
Yesterday morning Hurst got into his car parked outside his Grey Lynn home and as he started driving, he noticed the door light was on.
He pulled over to check the back doors and found his costume for his solo show No Holds Bard was gone from the backseat.
"The door wasn't broken ... nothing else was taken, there wasn't anything else in the car," he said.
Hurst said he was baffled as to what value the costume would serve anyone else as it was tailored to fit him exactly and isn't exactly in today's fashion.
"It's a black, Elizabethan, Shakesperean outfit made of really heavy, embossed velvet and it's completely useless to anyone, unless they're going to be something like I do," Hurst said.
"It's all been handmade for me, that's why it's important and it's got a hand-worked leather belt and buckles that were especially made and we got the material in Britain."
Hurst estimated the costume's value was about $4000.
And what's worse, he needs the costume for a performance in Northland today.
He's currently trying to pull together another costume, but it won't be the same.
"My costume had to be made to be incredibly sturdy because it's an incredibly taxing sort of show."
He said he's continuously been checking Trade Me in case someone lists it, but so far he hasn't had any luck.
Hurst asked anyone who has the costume or knows where it is to return it to the Basement Theatre on Greys Ave in Auckland's CBD. No questions asked.