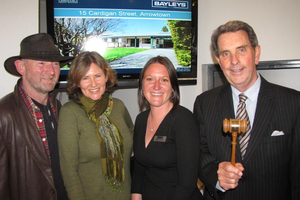 The Royal New Zealand Foundation of the Blind received almost half a million dollars from a Dunedin couple following a spirited auction in Queenstown.
The auction followed the wishes of the late Verona Mary McGregor, who instructed the property be sold and proceeds given to the foundation's Guide Dog Services.
Bayleys Queenstown managing director and auctioneer David Murray told the Otago Daily Times it was the "best bidding ... that I've experienced in three or four years", in what was an extraordinarily unusual auction.
"In 25 years of auctioneering, from my point of view, I don't think I've come across [a charity property auction] before. I think it's a wonderful gesture.''
His sentiments were echoed by the new owners, Liz and Jeff Dickie, of Dunedin.
Bidding opened at $250,000 and within minutes bids were flying, until the hammer fell at $499,000, securing the property for Mr and Mrs Dickie.
The couple told the ODT they were "delighted" to buy the original 1970s weatherboard home, located in the historic precinct of Arrowtown.
The 579sq m property, with a 2011 rateable valuation of $435,000, has three bedrooms, a carport, workshop and outdoor entertainment area, complete with swimming pool.
"I like historic places," said Mrs Dickie."We've got plans for it ... we'll redevelop it and get it looking more like a traditional Arrowtown house."
The couple planned to use it as a holiday home.
Mr Dickie said the foundation was a "very worthy cause".
"As much as this might sound bizarre ... it was good there was so much spirit in it [the auction]."
Mrs McGregor (nee Jack) died in August 2003, aged 80.
Her late husband, John McGregor, descended from one of Otago's pioneering families.
To maximise the return to the foundation, every aspect of the auction had been provided free of charge, including the Lim report from Lakes Environmental. Bayleys took no commission and did not charge a fee for the auction or marketing, while print media, including the ODT, provided free advertising.
Foundation of the Blind supporter marketing and fundraising executive director Alison Wheatley said the money from the sale would help deliver services to "empower and support" blind New Zealanders and those living with low vision.
The foundation was "incredibly grateful" to everyone who had given their time and services, allowing it to get the maximum benefit from the auction.