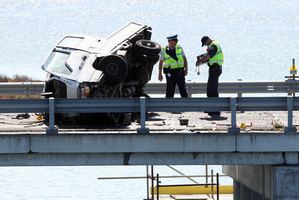 A 38-year-old man was killed when he was thrown into Ahuriri Lagoon in a head-on collision between two trucks on the Hawkes Bay expressway.
Sergeant Paul Ormerod said a southbound light truck and a northbound logging truck collided about 1.20pm yesterday on the Ahuriri Estuary bridge.
"At this stage it appears the southbound Nissan vehicle has drifted over the centre-line and collided head-on with the north-bound logging truck," he said.
"The logging truck driver took all the evasive action he could, hitting the left-hand Armco barrier."
After the collision the long-nosed Kenworth logging truck truck, with an empty trailer, crossed over the centre-line and came to rest facing north on the southbound lane on the airport side of the bridge.
The light truck came to rest on the bridge on its side, a trail of debris between the two vehicles.
"The 38-year-old driver of the southbound Nissan was thrown out of his cab and into the estuary on the eastern side of the bridge," Mr Ormerod said.
A doctor who was first on the scene, along with members of the public, went into the ankle-deep water and moved the driver on to a sand bank.
The doctor believed the driver died instantly, Mr Ormerod said.
The 38-year-old local driver of the logging truck was taken to Hawkes Bay Hospital for observation.
"From initial investigations it appears the southbound driver was not wearing his seatbelt," Mr Ormerod said.
The expressway between Meeanee Quay and Prebensen Drive was closed for several hours.
The accident happened close to the scene of another head-on collision on Tuesday night which left one man with critical injuries.
In that crash a car and van collided at the northern approach to the Ahuriri Estuary bridge about 9.15pm, with the impact sending the van into the air where it came to rest on the steel roadside Armco barriers.
The driver managed to get out but was taken to Hawkes Bay Hospital with leg injuries.
The 27-year-old driver of the car had to be cut from the wreckage and was taken to the hospital's intensive care unit with critical injuries.
For more articles from this region, go to Hawkes Bay Today