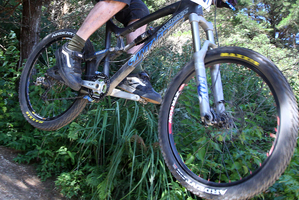 Mountain bikers are threatening to get even with horse riders after damage to cycling trials in Rotorua's Whakarewarewa Forest.
There have been at least three incidents of horses damaging trails in the mountain biking mecca, two on the new Tokorangi Pa Rd trail and one on the new Hemo Gorge trail, part of the national cycleway.
Rotorua Mountain Bike Club trail development and maintenance co-ordinator Rob Smail said the incidents on the Tokorangi Pa trail had caused up to $2000 worth of damage which would take a lot of work to repair.
Mr Smail said a lack of signs could have led to horse riders heading up the wrong tracks, leaving large potholes and damaging jumps.
"It's nothing we can't fix ... and not as bad as damage caused by storms and trees coming down. This is not careless vandalism, just some people making some bad decisions - some mountain bikers use the wrong trails as well."
Rotorua district councillor and mountain biking advocate Dave Donaldson said people needed to realise the forest was for everyone, not one select group.
"There has not been time to signpost all of the new trails. A project is under way to re-sign all of the trails in the forest."
But inflammatory comments left by a small number of angry mountain bikers on Facebook suggested some could take illegal action against horse riders, including damaging horse floats.
Mr Donaldson and Mr Smail said those comments only made the situation worse.
"Yes, it's disappointing it's happened but we all have to respect each other's rights as forest users," Mr Donaldson said.
"We try to work with all forest users ... but it is disappointing to see so much damage after a lot of time and effort had been put into building the trail by club members."
Redwoods Visitor Centre manager Julianne Wilkinson said she had spoken to two women from Taupo who got lost while horse riding in the forest and admitted causing damage to bike trails.
"They were really lovely, but had never ridden in the forest before.
"From what I can gather they turned on to the wrong trail and ended up on the newly established mountain bike track.
"In retrospect they said they should have come and got a map.
"They were quite upset about the damage they had caused ... I genuinely think they got lost and made some bad decisions on their way out."
She said the forest was a big place and there was room for everyone to enjoy their recreational activities.
"If people do this intentionally, it would be just a few of them. Horse riders have just as much right to be in the forest as mountain bikers."
However, Mrs Wilkinson said the majority of complaints she received were about mountain bikers using horse, dog or walking trails.
She said it was difficult to help horse riders as they were a lot less organised than mountain bikers and clubs were a lot smaller.
For more articles from this region, go to Rotorua Daily Post