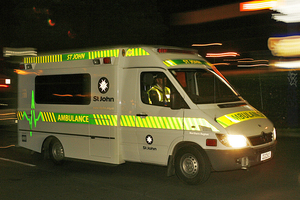 A teenager who collapsed and died at The Warehouse in Whangarei on Tuesday was the victim of a stabbing in Onerahi just over three weeks ago.
Online tributes are pouring in for the 17-year-old, who died despite efforts by St John paramedics to resuscitate him in the store.
One post on the Northern Advocate's Facebook page was from a woman who said she is the teenager's aunty.
It reads: "... it is true he was stabbed ... but was in hospital, today he has collapsed and passed away. The fact that any mother should be burying their child is a tragedy and [I] hope that whatever is reported is accurate. Please just remember that we still have whanau to contact. Thank you though for your thoughts and prayers, I will let his mum know about them. Please tell your teens how much you love them today!"
The teenager was treated at Whangarei Hospital and transferred to Auckland Hospital for surgery on October 30 after he was stabbed in the chest in Onerahi.
A woman arrested at the Ross St house appeared the following day in the Whangarei District Court.
A police spokeswoman declined to comment on any possible link between the Ross St incident and the death of the teenager at The Warehouse.
A Northland District Health Board spokeswoman said the teenager had been admitted first to Whangarei Hospital and then transferred to Auckland, and then back to Whangarei.
The spokeswoman said the health board was not investigating because it was a sudden death outside a hospital. The death has been referred to the coroner.
Another post on the Northern Advocate's Facebook page yesterday was from a woman who saw the teenager collapse and wanted to praise a member of the public who came to his aid.
"I just wanted to share that I was there when he collapsed and saw this amazing woman come to his aid, she didn't think twice about what to do and she worked so hard to keep him alive, along with some other ladies who also tried all that they could to help. My deepest sympathies to you all whanau - arohanui ki a koutou."
For more articles from this region, go to Northern Advocate