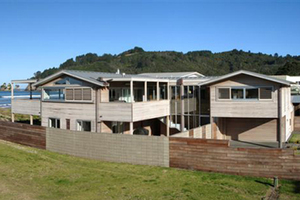 A house in Whangamata has sold for $3.6 million - believed to be a record price for the summer hot spot.
The sale of the five-bedroom, four-bathroom, purpose-built holiday home to an Auckland businessman was settled last week.
Six properties in the Coromandel have sold for more than $3 million in the past five years and half of those were in Whangamata. A house on Pauanui's beachfront sold for $4 million in April 2008.
The cedar-clad Whangamata house with a downstairs flat at 118 Tangaroa Rd is one of the few newly-built homes that have been for sale on the beachfront.
Whangamata Real Estate sales agent Peter Sheppard said it had great north-facing views and was well designed with a great quality fit-out.
"We had an open home for it in Easter and had in excess of 200 people through ... it was crazy," he said.
"But out of those there were only ever two parties genuinely interested in the property. When you get up over $3 million it's quite a small group of people that will pay that type of money for a holiday home."
Four beachfront properties valued at over $2 million had sold in the town in the past year. Whangamata Real Estate principal Murray Cleland said completion of the Kopu Bridge and low interest rates had made the area even more attractive.
"Whangamata has been very, very solid right through the last 12 months. The values have come back about 10 per cent but any of these star properties that come to the market we are able to sell."
Richardsons Real Estate principal Neil Christie said interest in purchasing secondary homes had picked up and there were several beachfront properties in Pauanui, Matarangi and Whangapoua listed for more than $2 million.