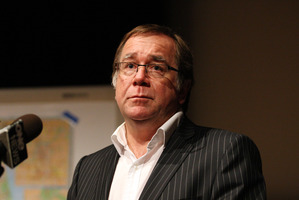 Government funding for a programme that brings young people from Burma to New Zealand has been suspended after the Immigration Service granted asylum to the leader of last year's course, Thura Oo.
It is understood that Foreign Minister Murray McCully was furious that asylum had been granted without Immigration consulting Foreign Affairs about it.
"Our funding of the scheme is in limbo while we sort out a basis on which we can ensure that those who come will not be able to successfully apply for refugee status," Mr McCully told the Weekend Herald.
"If we could get two government departments to speak to each other about the candidates before they make their decisions that might be quite helpful. I am anxious to sort out the current problem because I do want to resume it."
Mr McCully said people should not be accepted into the scheme who could then claim refugee status in New Zealand. "It defeats the purpose of the scheme, which is to build capacity among young leaders in Myanmar (also known as Burma) and we need to find a solution to this."
New Zealand is part of the international push to recognise and praise the former military dictatorship for recent moves towards democracy.
Prime Minister John Key is due to visit Burma next week, and will meet some of the alumni of the Wellington-based programme.
Labour MP Maryan Street visited Burma last week and said she met some of the alumni from the last course. She would like Mr Key not only to confirm support for the scheme while he is there, but to double the intake.
She said some of the participants went back to NGOs and some ended up in very significant positions, including two who were economic advisers to the President.
When she asked some of them what had impressed them most on the course, they had said observing Parliament, its question time and the select committee process.
The programme is run by Unions Aotearoa Development Trust (Union Aid) with funding of $175,000 from the Ministry of Foreign Affairs.
It takes in six young people each year from Non-Government Organisations. They are given a six-month programme designed to encourage awareness of human rights, democracy and practical skills that can be used when they return home.