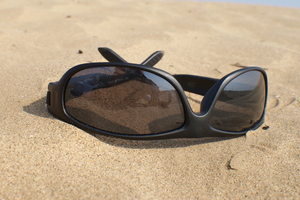 A Northland teenager who died after falling from the back of a ute on Ripiro Breach may have been trying to retrieve her lost glasses at the time, a coroner has found.
Marie Mihi Patricia Rangi Nelson, 17, died on December 21, 2008, from multiple head injuries, Coroner Sarn Herdson found in her investigation into the death.
In her decision released this week, Ms Herdson found that Marie died in Whangarei Hospital as a result of injuries she suffered the previous day.
Marie had been in a convoy of three vehicles travelling down the beach about 10am on December 20 and had been at an end-of-year function the previous night.
She was travelling in the back of the ute with a friend, Paula Harris, which was driven by Ms Harris' father.
As they drove between Mahuta Gap and Glinks Gully, Ms Harris had yelled out to her father to stop the ute, which was believed to have been travelling at between 5km/h and 40km/h.
Ms Harris had jumped from the vehicle and run back down the beach to where Marie had fallen from the ute, while Mr Harris turned the ute around and drove back to the scene.
Marie, who was still breathing, was rushed to the Dargaville Medical Centre, then to Whangarei Hospital.
Ms Harris said she had heard Marie swear and say, "My glasses", but when she turned around she saw her friend lying on the beach. Ms Harris said she could not understand why Marie had fallen as there were no obstacles and the ute had been travelling on packed sand.
Ms Herdson found that there was no alcohol in Marie's blood, but Marie had tetrahydrocannabinol - the active ingredient in cannabis - in her system at the time of her death, indicating she had possibly consumed the drug at some stage before her death.
The coroner found that on the basis of the available evidence Marie fell or jumped from the moving vehicle at a time when she intended to retrieve her glasses and her injuries and death amount to an unfortunate and unexpected death.
For more articles from this region, go to Northern Advocate