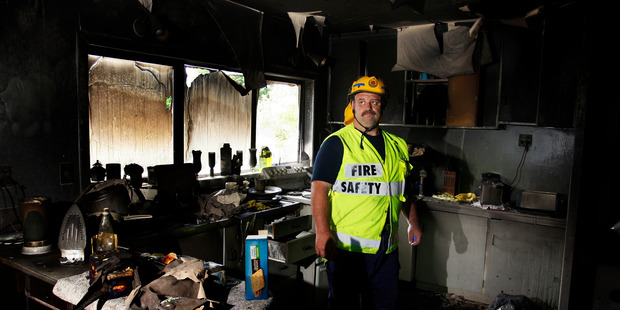 After getting her three children out of the family home as it became engulfed in flames, the next thing Lisa Coyle wanted to save was her mother's ashes.
A fire, believed to have started in a clothes drier, quickly spread and destroyed the home in Hikurangi, Northland, along with their possessions, about 9.30pm on Tuesday.
However, firefighters were able to save the family cat and retrieve Miss Coyle's treasured ashes.
She and her three youngest children were in bed watching television when 12-year-old Britney raised the alarm after smelling smoke.
"We jumped out of bed. I looked down the hallway and saw the fire and we just had to get out of there," she said.
Sidney, 7, made his way out and was followed by 11-year-old sister Paige, who was on crutches after breaking her leg the day before.
Once huddled together outside, Miss Coyle rang 111 and sought refuge at her neighbour's house.
It took just seven minutes for a crew from the Hikurangi fire brigade to arrive and start dousing the flames.
It was then Miss Coyle asked the firefighters to save her mum's ashes in a container inside the house. "I was really appreciative of the firefighters. My mum passed away nearly two years ago and I still have her ashes. I told them where she was in one of the rooms and they got her out for me," Miss Coyle said.
"She is so precious to me. She really wanted to be scattered across the Kapiti Coast and I'll do it one day when I'm ready."
Hikurangi fire brigade deputy Trevor Gallagher was in the first crew to arrive and, on seeing flames leaping from the roof and both sides of the house, a call for more help was made.
Crews from Kamo and Whangarei arrived, along with a Hikurangi water tanker. "There were two crews inside and another two crews fighting the blaze from the outside," Mr Gallagher said.
A Hikurangi fire crew was called back to the house about 11.30am yesterday after smoke swirled from the roof, indicating a hotspot.
Oldest sibling 18-year-old Laura, who also lived at the house, had been out with her partner when her mum called to say their house was on fire. "I told the firefighters my cat Smudge would be in my room. They opened the ranch slider and he ran out all wet and grey," Laura said.
Fire investigator Gary Beer said it appeared the fire had started in the drier but parts of the machine were to be sent away for testing. There were no working smoke alarms in the house.
For more articles from this region, go to Northern Advocate