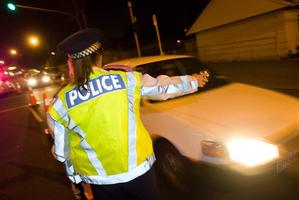 A drunken racegoer rolled a van carrying nine passengers after speeding away from the New Zealand Trotting Cup last night, police say.
Police chiefs have today come out and slammed the behaviour of drunk drivers following Cup Day yesterday after the van roll, as well as a nasty hit-and-run overnight, left several people in hospital.
In the most alarming incident, a van carrying a driver and nine passengers was travelling south-west on Lincoln Road after leaving Addington Raceway at around 6.30pm.
Police say the van was travelling at excessive speed when the driver made a sharp left-hand turn into a side street and rolled.
"The van was seriously overloaded," said Senior Sergeant Rob Patterson.
"There were no proper seats - only benches and unsecured seats, and none of the passengers were wearing seat belts.
"Several of the passengers have suffered significant injuries, including a woman who had some fingers severed, and others with spinal injuries.
"The driver fled the scene, but was located by police shortly afterwards."
Three passengers were taken to hospital by ambulance following the crash.
Sergeant Patterson says the driver blew a breath alcohol reading of 524 micrograms of alcohol (mcgs) per litre of breath. The legal limit is 400mcg.
A 21-year old Christchurch man will appear in the Christchurch District Court next Tuesday, November 20 on charges including excess breath alcohol and failing to stop.
Shortly after this crash, at around 7pm, a pedestrian was struck by a car travelling away from Addington on Whiteleigh Avenue at excessive speed. Eyewitnesses reported the pedestrian was thrown into the air and landed heavily on the footpath.
"The driver did not stop, but passers-by were able to give police information which helped us locate and apprehend the driver nearby," Senior Sergeant Rob Patterson said.
"This driver was also over the limit, blowing a reading of 528."
The driver, a 25-year old Christchurch man, will appear in court on Thursday, November 29 on excess breath alcohol, dangerous driving and failing to stop charges, as well as an assault charge after the man allegedly assaulted a police officer in the Christchurch Central watchhouse.
The injured pedestrian is reported to be in a critical condition in intensive care at Christchurch Hospital.
"It's hugely disturbing to police that incidents like these continue to occur, despite the constant messages about drink-driving," says Senior Sergeant Patterson.
"This is simply stupidity and recklessness on the part of some drivers. I can't understand why drivers think it's acceptable to drink to excess at an event and then put themselves, their passengers and other road users at risk.
"Some of the onus must also be on passengers - why people would willingly put their lives in the hands of a drunk driver is unfathomable."
Senior Sergeant Patterson says police will be stepping up their efforts to take drunk drivers off the road through the rest of Show Week.
They will have a strong presence at all major events, and will have checkpoints and booze bus operations in place.
Police are also working closely with the event organisers to ensure good host responsibility and prevent excessive alcohol consumption.
- APNZ